Pivot Nurses
In order to provide cancer patients and their families constant access to a health professional specially trained to meet their needs, the Department of Health and Social Services has established, in the early 2000s, a new role: that of the Pivot Nurse in oncology.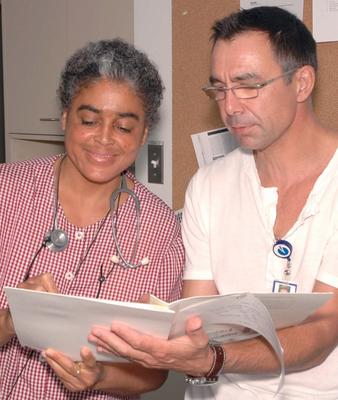 The pivot nurse in oncology is a specialist integrated in an interdisciplinary team in the fight against cancer, who has the expertise to assess the overall needs of the cancer patient and their loved ones. She places the family at the heart of its interventions. In addition, she teaches, provides information, guides and offers support. Her contribution to the team is essential for the coordination of care and services offered. Considering her importance, both for patients, for their family and the healthcare professionals working in oncology, La Direction de la lutte contre le cancer gives priority to the implementation of oncology pivot nurses in Quebec institutions offering this service.
Since the arrival of this new resource within the interdisciplinary team of la lutte contre le cancer, several publications and comments from cancer patients or their close ones confirm the added value of the pivot nurse in oncology in the provincial network of the fight against cancer.
Three pivot nurses are part of the team of the Cancer Care Program of Hospital St .Mary, Here is how you can reach them:
Dail Jacob
BScN, CON(C)
Gastro-intestinal Malignancies. 514-345-3511 ext; 5042
Anne-Marie Leblanc
BScN,
Breast, Ovary & Prostate 514-345-3511 ext.: 5746
Janelle Ramsahai
BScN,
Breast, Ovary & Prostate 514-345-3511 ext.: 5746
Renée Roy
BScN,
Lung, Hematological malignancies, Others 514-345-3511 ext.; 6728