Roofs replacement at SMHC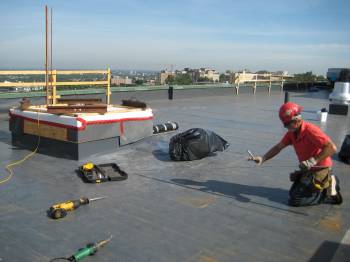 The re-roofing program at St. Mary's Hospital Center began in 2005 and should be completed in 2011. When completed, it will have contributed to the remake of forty roof basins, an area of approximately 75,000 square feet, or 70% of the total surface. These new roofs are made of PVC membrane. This installation requires the removal of the old roof down to the structure. Once completed, we will proceed with re-insulation to current standards to minimize energy losses.
Unlike tar, PVC membrane emits no odor, therefore does not affect patients' health. In addition, it offers good resistance to UV, ozone and weather extremes. This membrane is also extremely durable because its expected longevity is 30 years and over, unlike 15 or 20 years maximum with tar roofing.
Thus these new PVC membrane roofs represent an economical and ecological choice of energy saving. All these improvements contribute to the welfare of CHSM employees, patients and their families.