SMHC has a new state-of-the-art dialysis unit
Just in time for National Kidney Month, SMHC has officially inaugurated its new dialysis unit. After two years of renovation, and a total budget of $5.5 M, this new unit will allow patients to benefit from the most rigorous quality standards of care. This state-of-the-art project was co-funded by the Quebec Ministry of Health and Social Services for $4.8 M and by the SMHC Foundation for $700,000.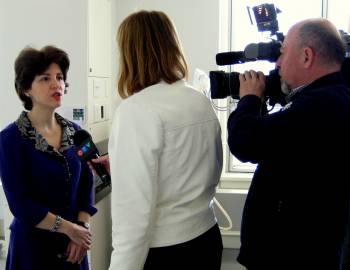 "As a result of the major renovations our unit underwent in the past two years, we are now able to offer services in renal replacement that meet the highest technical standards of medical practice guidelines", declares the Director of Nephrology, Dr. Johana Eid, to members of the media.
The new dialysis unit of SMHC is divided into three distinct areas:
1. the central area with a total of 24 hemodialysis stations. It is divided into a main room with 19 individual treatment stations, including two isolation rooms and an adjacent self-care room with five semiautonomous stations. Both of these rooms are equipped with a new central distribution system of bicarbonate for a direct supply to the dialysis machines;
2. a peritoneal dialysis clinic (to follow-up with patients who do peritoneal dialysis, a form of dialysis done daily at home);
3. a renal protection clinic (for the education and the multidisciplinary follow-up of patients with advanced kidney failure). The project also includes a procedure room, as well as conference and meeting rooms.