The new reception desk at the Surgical Day Centre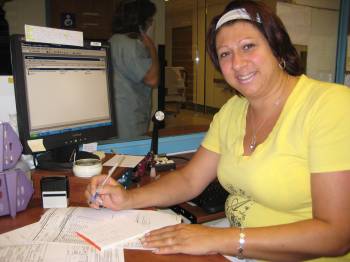 The surgical day reception area, located on the second floor of the main building, was refurbished to add an additional window for a second receptionist. For this project, the work spaces have been reorganized. Moreover, the furniture was tailored to meet the needs of staff. The work environment is now more ergonomic and comfortable.
"My job is made easier since the renovations of the reception desk. For example, I have more privacy, which adds to confidentiality when handling patient records. I would like to thank Waheb Sehili and Richard Brisson from Facilities and Project Management for their excellent work," says Ida Manago, receptionist, who has been working at SMHC for 24 years.