Physiotherapy Department
For an appointment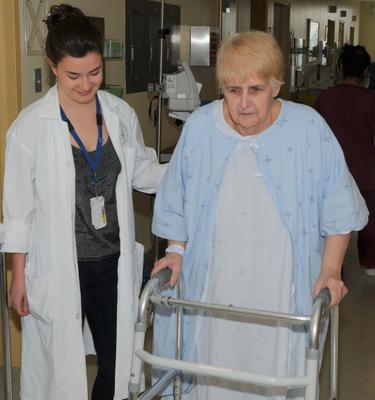 Rehabilitation Services Reception: B-272
Monday to Friday from 8 AM to 4 PM
Telephone: 514-734-2612

Out-patient Physiotherapy Department: B-284
Monday to Friday from 07:30 AM to 05:00 PM
(Hospital Entrance via Legare Street)

Contact information
Rehabilitation Services
Hours of Operation: Monday to Friday, from 8 AM to 4 PM
Telephone: 514-734-2612
Clinical Student Coordinator (CCCE):
Milena Frydl
Telephone: (514) 734-2612
milena.frydl@ssss.gouv.qc.ca

Description
Physical therapists are healthcare professionals who evaluate, correct and alleviate musculoskeletal or neurological dysfunctions. Our aim is to reduce pain and restore movement and function in order for patients to promptly return to their daily activities.

Physiotherapists at St. Mary's Hospital provide in and out patient services across the different programs. Based on the assessment of a patient's condition, our therapists will develop rehabilitation goals and establish a treatment plan.

Our inpatient therapists treat patients with cardio-respiratory, medical, and neurological problems or patients who have undergone surgical interventions. Our outpatient therapists specialize in orthopedic cases. These include fractures, post surgeries, joint sprains, muscle strains, postural dysfunctions, muscular imbalances, vertebral disorders and arthritic conditions.

As part of the rehabilitation process, a physical therapist will use special equipment and skills to aid in patient recovery. Treatments may focus on increasing, restoring or maintaining range of motion, strength, flexibility, coordination, balance and endurance. Patient and family education play an integral part in our treatment.

Special programs offered at St. Mary's Hospital Center include neck care classes, shoulder care classes and pre-operative hip and knee replacement classes.