Cancer Care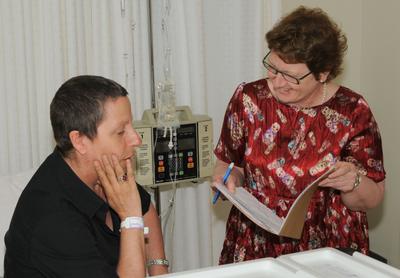 The Cancer Care Program of St. Mary's Hospital Center is comprised of the Cancer Care Day Clinic and the Oncology & Palliative Care unit.
The mission of St. Mary's Hospital Center Cancer Care Program is to provide comprehensive continuing and competent Oncology & Palliative care to patients of St. Mary's Hospital. It encourages an environment of innovation and collegiality and is committed to the delivery of excellent quality of safe cancer care.
The program's dedication to growth and development includes the training of future health care professionals in oncology & palliative care.
Our program is committed to patient-focused research in the area of cancer in alliance with the McGill department of oncology.

Cancer Care unit
TELEPHONE NUMBER
(514) 345-3511, ext 3622
Our 22 bed in-patient Cancer Care unit includes 16 beds of oncology and 6 beds of palliative care. The interdisciplinary team rotates through the unit and the day clinic offering our clientele excellent continuity of care. The Oncology team follows the admitted patients on the unit and also is consulted throughout the hospital.
Our Palliative Care team follows their clientele on the unit and also offers consultations and follow-up to oncology and other unit's patients. They are also consulted for problems of chronic pain across the hospital.
Palliative care provides supportive care for patients with a serious illness. The goal is to relieve pain, symptoms, and stress, and provide the best quality of life for patients and their families. It may be provided throughout all stages of illness.

Cancer Care Day Clinic
TELEPHONE NUMBER
(514) 345-3511, ext. 2679
Open Monday-Friday
7h00-17h00
The Cancer Care Day Clinic receives around 15000 visits per year including more than 575 new patients per year.
A multidisciplinary team including oncologists, pharmacists, palliative care physicians and other professionals treat a wide range of cancer types including breast, colorectal, lung, gastro intestinal and lymphoma.

The Palliative Care team offers consultations and follow-ups, home visits and a partnership with our local CSSS to maintain excellent continuity of care for this type of clientele.
Our highly skilled and experienced staff combined with our newly renovated facility allows us to provide patients with the best cancer care possible
The Cancer Care Program at St-Mary's Hospital and its experienced providers recognize that information is an essential component in coping with cancer and making decisions regarding treatment planning. Our professional team helps guide patients, their families and friends as they cope with the physical, emotional, psychological, social, spiritual and financial concerns that often accompany a cancer diagnosis

HOW TO REGISTER TO FIND A FAMILY DOCTOR
If you are treated for cancer and don't have a family doctor, you should register to the provincial government program (GACO) Guichet d'accès pour les clientèles orphelines. As a cancer patient, you will be categorized as vulnerable patients, therefore your demand will be considered a priority.

Click here to download the information leaflet in pdf format.

Members of the Multidisciplinary Team of the Cancer Care Program

- Oncologists
- Palliative Care Physicians
- Pharmacists
- Nurses
- Pivot nurses
- Psychologist
- Social worker
- Occupational therapist
- Physiotherapist
- Dietician
- Pastoral agent
- Volunteers


Services subsidized by the Cancer Care Fund

- Music Therapy
- Massage Therapy
- Bereavement Program
- Lymphedema treatment
- Yoga classes
- Coordination of group of volunteers

Dr.Jaroslav Prchal
Medical director of the Cancer Care Program
514-345-3511, ext. 2679
Dr. Justine Farley
Responsible of Palliative Care Team
514-345-3511, ext. 2679
Manon Allard
Program Manager of the Cancer Care Program
514-345-3511, ext. 3038