Volunteer team
The objectives of the volunteer team is to provide support and companionship to our patients and their families and to assist staff in achieving the highest level of pati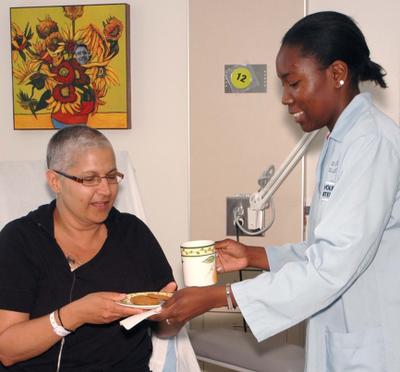 ent and family focused care. We are here because we want to help… Don't hesitate to ask…

Where we can be found: Inpatient unit, Cancer Care Day Center. You can recognize us by our blue coats.

What can we do for you and your family?

In-patient unit and Palliative Care

- Friendly visiting: As the title suggests, volunteers make themselves available to patients and their families. They offer emotional support and are pleased to perform small tasks that may improve the quality of the hospital experience.

- Social Tea: Prepare a delightful tea service (or wine and cheese on special occasions) for patients and their loved ones in our family room every Wednesday afternoon. Our tea ladies offer home-made treats, fresh fruit, tea coffee and juice. Musical accompaniment is provided courtesy of our Music Therapist and the voices of everyone in attendance.

- DVDs & CDs: If you would like to watch a movie or listen to some music, we can provide you with a portable DVD player or CD player. Just ask a volunteer or staff member for assistance.

- Spa Day - Every Monday and Wednesday, a volunteer esthetician can provide one of the following services: mini facial; mini manicure; mini pedicure.

Cancer Care Day Center

- Treatment room: While you are having your treatment, a volunteer will be available to say Hello, help make you comfortable either in a chair or bed, make sure your bed linen is fresh, offer you refreshments and accompany you while you are being treated.

- Follow-up doctor's visit: If you are seeing your Doctor, you will be paged from the waiting room by a volunteer, who will help you prepare for your examination. - Waiting room: If you are looking for information, resource material, help with hair treatments (wigs or turbans) or to borrow a book from our library, just look for a volunteer (in a blue coat). They are also eager to have a friendly conversation or to offer you a light snack.

- Administration & special projects: Volunteers work behind the scenes as well helping with computer work and coordinating special events and projects such as decorating, gift giving on special occasions and fund raising to support these endeavours.