Maternal/Child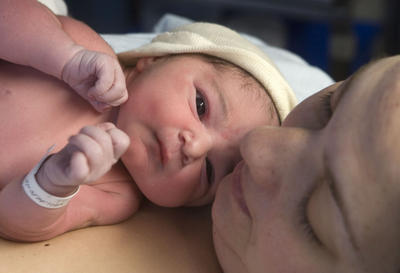 St. Mary's is well known for its Maternal Child/Care Program. With more than 4500 deliveries per year, it is one of the largest birthing centres on the island of Montreal.

It is also the first hospital in Montreal to have received the World Health Organisation's (WHO) recognition of Baby Friendly Hospital Status by the Ministry of health .

Our philosophy of care is centred on the needs of the family and the newborn. Our high standards of practice are updated on a regular basis. Teaching and research are a significant part of our program.

Various evidence based programs are implemented in our units such as Prevention of Shaken Baby Syndrome, MOREOB, a risk management program promoting patient safety and quality care. Our patients also have the opportunity to participate in the Hema-Québec Public Cord Blood Bank.
Specialized doctors are present 24 hours a day to address your needs. Prenatal classes on breastfeeding and a tour of the units are offered around 32 weeks of pregnancy. The usual length of stay after a vaginal delivery is 36 hours and 72 hours after a caesarean delivery.



The Maternal Child Care Program also includes a women's clinic which offers services of several specialized clinics for high risk pregnancies and gynaecology. For an appointment, call 514-734-2635.
For more information, please download the following documents in pdf format:
Visiting Hours - Maternal Child Care program
St. Mary's Hospital Center Breastfeeding policy

In early labor? If yes, it's better to stay at home for now

Counting your baby's movements

INFORMATION REGARDING YOUR PLANNED CESAREAN SECTION (C-SETION)

Vaginal Birth after Caesarian Section: What I need to know to make a decision

Major Contributors:

Director of the Department of Obstetrics and Gynaecology: Dr. Robert Hemmings
Director of the Department of Paediatrics: Dr. Apostolos Papageorgiou
Director of Obstetrics: Dr. Louise Johnson
Director of Gynaecology: Dr. Faez Faruqi
Director of Neonatology: Dr. Lajos Kovacs
Coordinators of Education: Dr. Lisa Merovitz, Dr. Marie-Luce Chen, Dr. Balbina Russillo, Dr. Sonia MacFarlane
Program Manager: Marie-France Brizard
Delivery Room Head Nurse: Noella Éthier
Potspartum Unit and Intermediate Care Nursery Head Nurse: Chantal Vincelette