News
SMHC Receives the Nationally Recognized BOMA BESt Certification
Montreal, Novembre 21, 2012 - St. Mary's Hospital Center (SMHC) was awarded the 2012 BOMA BESt (Building Environmental Standards) Certification level 1 from BOMA Québec (Building Owners and Managers Association) for demonstrating superior management in energy and environmental performances of its buildings.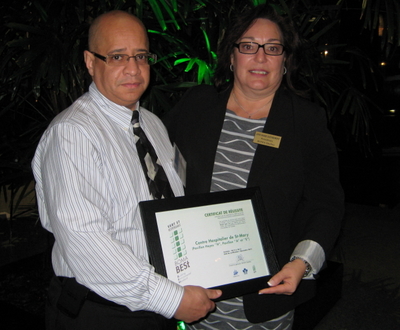 Ahmed Ait El Hadj (left in the photo), Coordinator of Emergency Measures, Safety and Environment Department, received, on behalf of the Environmental Committee under the direction of Mike Kamel, Director of Material Management and Support Services, the certificate from Anne-Marie Guèvremont, President of the Board of Directors of BOMA Québec.
"SMHC is proud to receive the prestigious BOMA BESt Award. This is another example of caring through excellence that benefits our patients and our community", said Mr. Ait El Hadj.
The ceremony took place during a reception in the 1250 René-Lévesque Blvd. Winter Garden.
BOMA BESt is a national program launched in 2005 by BOMA Canada to address an industry need for realistic standards for energy and environmental performance of existing buildings based on accurate, independently verified information. For more information, visit BOMA Québec website by clicking the following link: http://www.boma-quebec.org/

St. Mary's Hospital Center (SMHC) is a university affiliated, community hospital which serves a multicultural population. It seeks to provide the highest level of safe patient and family focused care. St. Mary's is an integral part of the Réseau universitaire intégré de santé (RUIS) McGill. For more information, visit http://smhc.qc.ca/
- 30 -

For more information, contact:
Alex Fretier, Information Officer, or
Seeta Ramdass, Director of Communications & Public Relations, St. Mary's Hospital Center
514 734-2665