News
SMHC ER Doctor Healing Through Medicine and Music: Launch of his first solo album
Montreal, December 3, 2012 - Dr. Steven Herskovitz, SMHC emergency medicine physician, just released his debut solo Album, "My Mountain". The Montreal-based singer/songwriter, is dedicated to the power of healing, not only as a musician, but as a doctor. He has practiced across Canada, as well as in New Zealand, and Tanzania.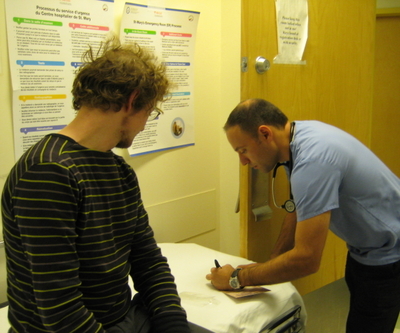 Dr. Herskovitz (right in the photo) enjoys working with culturally diverse patients and colleagues. He explains: "The interdisciplinary and intercultural exchange is enriching personally, professionally and artistically. The unpredictable nature of Emergency Medicine allows me to use my skills as a physician to help others, and provides me with inspiration that enriches the creative process. Writing music allows me to express myself and evolve as an individual, and hopefully, this will strike a chord with listeners."
Dr. Herskovitz also participates in the DHCEU program based at SMHC, where he supervises foreign doctors who have received their medical degrees outside of Canada and the United States.
He supports Dignitas International, a medical humanitarian organization, composed of health care workers, researchers, and policymakers who are committed to helping and healing patients, and improving access to health care for the world's most vulnerable communities.

"Here is an excellent gift idea for the Holiday Season. Give the gift of music and support a good cause at the same time", concludes Alex Fretier, Information Officer at SMHC.

For more details about his debut solo Album "My Mountain" and to learn more and to support Dr. Herskovitz's important initiatives, visit his website at www.herskomusic.com

St. Mary's Hospital Center (SMHC) is a university affiliated, community hospital which serves a multicultural population. It seeks to provide the highest level of safe patient and family focused care. St. Mary's is an integral part of the Réseau universitaire intégré de santé (RUIS) McGill. For more information, visit http://smhc.qc.ca/
- 30 -

For more information, contact:
Alex Fretier, Information Officer, or
Seeta Ramdass, Director of Communications & Public Relations, St. Mary's Hospital Center
514 734-2665