News
SMHC participates in MICC's Valorisation Jeunesse Program
SMHC had the pleasure of participating in the Ministry of Immigration and Cultural Communities (MICC) Valorisation Jeunesse Program by welcoming two students from secondary V.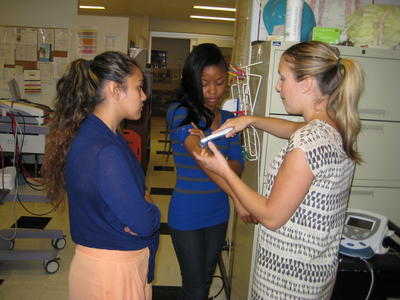 Zayneb Alhassan (left), of
École secondaire Saint-Laurent
and Yesmine Bentinck (center), of
École secondaire La Voie
, took advantage of their time at St. Mary's to become familiar with career opportunities in the health care sector.
The students had the opportunity to visit several departments and observe employees at work. They are seen here with Alexandra Renault, physiotherapist at SMHC.
The Valorisation Jeunesse Program helps to prepare future professionals. It provides a platform for young people who want to invest in learning experiences relevant to their professional interests.