News
SMHC joins in the project for the development of Côte-des-Neige Road
Montreal, April 22, 2014 - The Côte-des-Neiges / Notre-Dame-de-Grâce (CDN-NDG) "Corporation de développement économique communautaire (CDEC)" has set up an advisory committee composed of representatives from the worlds of business, health, community, education, cultural and religious sectors. The mandate of this committee is to put forth ideas for the strategic development of Côte-des-Neiges Road.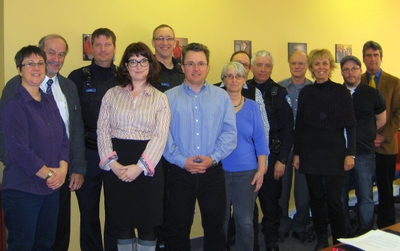 "Côte-des-Neiges is a colorful and cosmopolitan road, rich in history, culture and heritage buildings. As a part of this community for over 75 years, St. Mary's is proud to participate in this project for the benefit of people who work and come to receive health care in the area by serving in the CDEC advisory committee," said Alex Fretier, Public Affairs Officer. Visit the project website for more details:
http://www.lacotedesneiges.com/
In the photo, from left to right: Hélène Bordeleau, Economic Development Officer, CDEC, Mgr Pierre Blanchard, Parish Priest of Notre-Dame-des-Neiges, Mario Blais, Patrol Officer, PDQ 26, Valérie Beaulieu, Executive Director, The Blue Line, Daniel Dubuc, Patrol Officer, PDQ 26, Alex Fretier, Public Relations Officer, SMHC, Denise Beaulieu, Executive Director, CDN Community Recreation Center, Eric Richard, Director of Educational Services, Les amis de la montagne, Jacques Châles, patrol officer, PDQ 26, Denis Poirier, Vice President planning, administration and resources, Saint Joseph's Oratory, Luce Botella, Cultural Officer, Côte-des-Neiges Cultural Centre, Yanick Thibault, Cultural Agent , Borough of CDN-NDG, Claude Lauzon, Director, CDEC.
St. Mary's Hospital Center (SMHC)
is a university affiliated, community hospital which serves a multicultural population. It seeks to provide the highest level of safe patient and family focused care. St. Mary's is an integral part of the Réseau universitaire intégré de santé (RUIS) McGill. For more information, visit
http://smhc.qc.ca/
The Côte-des-Neiges / Notre-Dame-de-Grâce CDEC works for the economic and social development of our borough. Its dedicated staff and Board are active in supporting individual and collective entrepreneurship, the development of employability projects, and initiatives that have a lasting impact on the diversification of the economy and reinforcement of the social climate and its cohesion. For more information, visit http://www.cdeccdnndg.org/
- 30 -
For more information, contact:
Alex Fretier
Information Officer
St. Mary's Hospital Center
514 734-2665

Hélène Bordeleau
Economic Development Officer
Corporation de développement économique communautaire CDN-NDG
514-342-4842, ext. 104