News
ER construction update
Montreal, June 9, 2014 - Construction and renovation of St. Mary's Hospital Center (SMHC) Emergency Room (ER) is moving forward. The Outpatient department (OPD) area, originally located on Pavilion A Ground floor, will temporarily serve as the emergency room waiting and triage areas. (The actual OPD is currently relocated to Pavilion A 7th floor).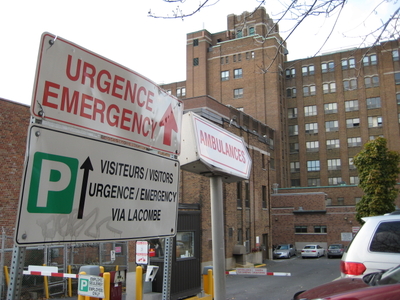 In order to minimize the temporary disruptions to the ER staff and the patients, access to the ER has been relocated to the side doors (opposite the Human Resources building). Between 6:00 a.m. and midnight this access is reserved only for ER patients. All personnel, employees, visitors and others are asked to use the main entrance, 3830 Lacombe Ave.

The renovations will help to improve the work environment for our ER teams and the service to our patients and our community.
Special thanks to the ER team for their patience and collaboration.

Thank you all for your support and understanding during the course of the renovation period,
The Technical Services Directorate and Security Service

St. Mary's Hospital Center (SMHC) is a university affiliated, community hospital which serves a multicultural population. It seeks to provide the highest level of safe patient and family focused care. St. Mary's is an integral part of the Réseau universitaire intégré de santé (RUIS) McGill. For more information, visit http://smhc.qc.ca/
- 30 -
For more information, contact:
Alex Fretier, Information Officer, or
Seeta Ramdass, Director of Communications & Public Relations, St. Mary's Hospital Center
514 734-2665