News
St. Mary's Hospital Center, first North American public hospital to offer advanced, blade-free cataract surgery technology
Montreal, August 22, 2014 - St. Mary's Hospital Center (SMHC) is now able to offer patients a new, advanced approach to cataract surgery. This technology, known as LenSx® is a femtosecond laser which is fully automated and customized to the patient allowing faster and more precise surgery. Femtosecond laser guided cataract surgery eliminates the need for a surgical blade and enhances the precision during the beginning of the surgery thereby making the procedure safer and more predictable.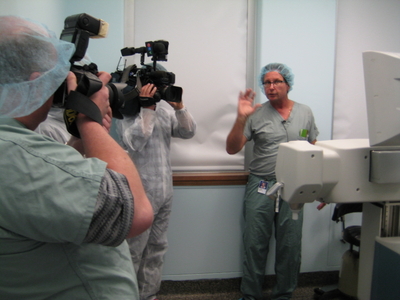 "St. Mary's is the first publicly funded hospital in North America to offer patients the most advanced technology for cataract surgery," explained Dr. Conrad Kavalec, Chief of the Department of Ophthalmology at St Mary's and assistant professor at McGill University.
Cataract surgery is quite routine and safe. The procedure takes 8 minutes and there are no needles or stitches. Most patients can see the next day and often without the need for glasses. At St. Mary's Hospital we can perform up to 40 cataract surgeries a day with minimal risk and great benefit to the vision of our patients. We perform 5500 surgeries per year so we are one of the busiest centers in North America. We also teach surgical residents and perform clinical research.
The LenSx® Laser provides more control, making cataract surgery more precise and predictable because we can tailor the treatment to each patient. This streamlined procedure is pain free, needle free, blade free, and lasts 35 seconds. The laser eliminates the human surgical component by performing the initial incisions which require much skill and take a surgeon two and a half minutes. The procedure is minimally invasive, meaning that the patients heal faster and can return to their normal routines in 24 hours" emphasized Dr. Kavalec.
LenSx® femtosecond laser guided cataract surgery is the future of cataract surgery.
Dr. Kavalec explained that far too often in ophthalmology, new technologies and treatments become available in the private domain and are not offered in public hospitals due to the cost. St. Mary's Hospital can offer patients the most advanced technology available anywhere in the world with surgery performed by surgeons with great skill and experience. Patients now have an opportunity to have the best possible surgery done at an affordable rate in a public hospital where we have highly trained operating room teams of nurses, surgeons and anesthetists in an environment where rigid infection and quality controls have been implemented. The cataract surgery itself is covered by RAMQ.
The Laser Guided Cataract surgery costs the patient an additional $1100 per eye. A similar procedure at a private clinic can cost up to $4000 per eye.
About Ophthalmology at St. Mary's
In 2002 St. Mary's hospital Center was designated a cataract center by l'Agence de Montreal. "St. Mary's is the largest cataract surgery center in Quebec. We are one of the most modern cataract centers in the province with 17 operating surgeons, three fully equipped modern operating theatres and are capable of performing 40 cases per day, or 5500 cases per year," says Dr. Kavalec, Chief of the department of ophthalmology at St Mary's and assistant professor at McGill University.
St. Mary's Hospital Center (SMHC)
is a university affilliated, community hospital which serves a multicultural population. It seeks to provide the highest level of safe patient and family focused care. St. Mary's is an integral part of the Réseau Universitaire Intégré de santé (RUIS) McGill.
About Cataracts
A cataract develops when the eye's natural lens becomes cloudy, which impairs and disrupts vision causing blurred or defocused vision. Cataracts are the leading cause of preventable blindness worldwide.
- 30 -
For more information, contact:
Alex Fretier, Information Officer, or
Seeta Ramdass, Director of Communications & Public Relations, St. Mary's Hospital Center
514 734-2665