News
Annual General Meeting of SMHC and its Foundation
The 2013-2014 Annual General Meeting of SMHC and its Foundation took place in the auditorium on Friday, October 3.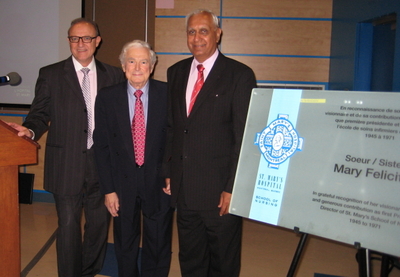 Members of the respective boards of directors presented the highlights of the last fiscal year to an audience consisting of employees, patients and their families, as well as members of our community.
Our honorary guest was Mr. Alan Hustak, author of the book "At the Heart of St. Mary's". A plaque dedicated to Sister Mary Felicitas, first President and Director of St. Mary's School of Nursing, was unveiled in the presence of three past and present SMHC Director Generals and CEOs.
This also served as a special occasion to celebrate the 90th anniversary of SMHC. Members of the public had the opportunity to ask questions to the representatives of the respective boards.
Click here
to consult the annual report.