News
World Diabetes Day 2014: SMHC's experts shine the light on this disease
Montreal, November 14, 2014 – Throughout the entire month of November, St. Mary's Hospital Center will be illuminated in blue to shine the light on Diabetes, a disease affecting over 380 million people worldwide. The blue light is a symbol of unity amongst nations to raise awareness and fight this pandemic that is putting increasing strain on healthcare resources across the globe. As part of World Diabetes Day, SMHC's experts organized clinical presentations, information booths and much more to raise awareness and improve knowledge on care and treatment of this disease. Nurses, Endocrinologists, Nephrologists and Dietitians were present.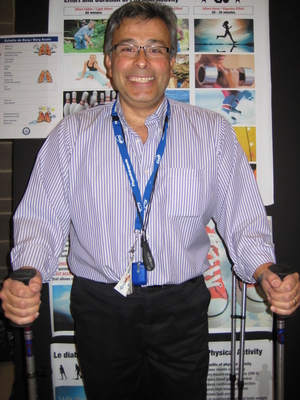 There are three types of diabetes. Type 1 Diabetes, usually diagnosed in children and adolescents, occurs when the pancreas is unable to produce insulin. Approximately 10% of people affected have type 1 Diabetes. The remaining 90% have type 2 Diabetes, which occurs when the pancreas does not produce enough insulin or when the body does not effectively use the insulin produced. Gestational Diabetes occurs during pregnancy. Research shows that lifestyle changes can help prevent or delay type 2 Diabetes. As Peter Vavougios, Physiotherapist at SMHC explains, "doing just 30 minutes of moderate physical activity per day can help diabetic patients to control their blood sugar levels, improve their quality of life and increase their longevity".
About World Diabetes Day
World Diabetes Day is celebrated every year on November 14. It engages millions worldwide in diabetes advocacy and awareness. World Diabetes Day was created in 1991 by the International Diabetes Federation and the World Health Organization in response to growing concerns about the escalating health threat that diabetes now poses.
About St. Mary's Hospital Center (SMHC)
St. Mary's Hospital Center (SMHC) is a university affiliated community hospital, which serves a multicultural population. It seeks to provide the highest level of safe patient and family focused care. St. Mary's is an integral part of the Réseau universitaire intégré de santé (RUIS) McGill. For more information, visit http://smhc.qc.ca/
- 30 -
For more information, contact:
Alex Fretier, Information Officer, or
Seeta Ramdass, Director of Communications & Public Relations, St. Mary's Hospital Center
514 734-2665