News
SMHC's expertise recognized by the Fédération québécoise de loisirs en institution
Montreal, January 30, 2015 - Each year, the Fédération québécoise de loisirs en institution (F.Q.L.I.) organizes a symposium for its members during which awards are given in different categories recognizing excellence. The Coup de Cœur 2014 award for the Montreal area was won by our Flora Masella, Recreational Therapist at SMHC since 1982.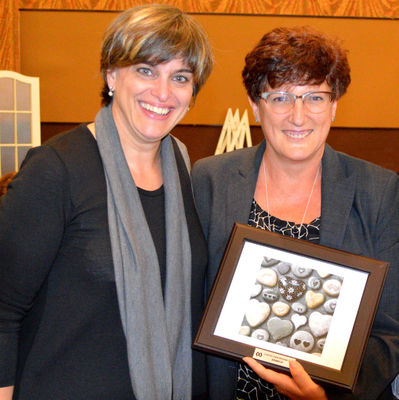 "I am so happy to have won this award and to see the profession of therapeutic recreation recognized for its valuable contribution to the well-being of our patients," said Flora Masella.
This prize is awarded to acknowledge the contribution of therapeutic recreation and the value of this individual therapist working in a healthcare institution.
This is another example of "Caring through excellence" at St. Mary's.
St. Mary's Hospital Center (SMHC)
is a university affiliated, community hospital which serves a multicultural population. It seeks to provide the highest level of safe patient and family focused care. St. Mary's is an integral part of the Réseau universitaire intégré de santé (RUIS) McGill. For more information, visit http://smhc.qc.ca/

- 30 -
For more information, contact:
Alex Fretier, Information Officer, or
Seeta Ramdass, Director of Communications & Public Relations, St. Mary's Hospital Center
514 734-2665