News
St. Mary's Auxiliary donates a record $275,000 to SMHC
St. Mary's Auxiliary donated a whopping $275,000 to SMHC's Foundation. This generous donation touches every corner of our hospital, specifically our Women's Clinic, Mat-child Unit, and Family Medicine and Cancer Care Departments.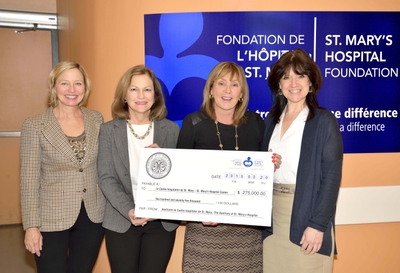 It's been a busy year for our Auxiliary! Each spring they present us with a large cheque – the sum of their efforts – raised through the Gift Shop, The Book Corner, Coffee Shop, Jingle Bell Fair and so much more…
We are so very proud of the work of St. Mary's Hospital Auxiliary and respect the important role it has played in our heritage. We wish to express our sincerest heartfelt thanks to each and every one of its members and volunteers who selflessly devote their time, energy, and heart…year after year. Your presence is felt…Thank you!
Click here
for more info on St. Mary's Hospital Auxiliary.