News
SMHC Family Medicine Annual Scientific Day
Montreal, June 8, 2015 - The Family Medicine Centre of St. Mary's Hospital Center presented its Annual Scientific Day. Many people attended this event which took place in the Auditorium. During this day, residents presented their projects which they have completed as part of their academic training.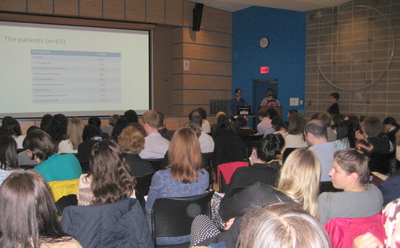 At the same time this day served to highlight the large number of Family Medicine staff who are involved in family medicine research. It also celebrated the breadth of topics which are studied by our staff.
In the photo, Dr. Pierre Pluye, Dr. Ellen Rosenberg and Dr. Lynn McLauchlin presented their project "Patients with complex care needs: A series of case reports". Other topics discussed included: "Post-concussion Management in the Pediatric and Adolescent Population" et "What Does "Palliative Care" Even Mean ? A Reflective Analysis".
St. Mary's Hospital Center (SMHC)
is a university affiliated, community hospital which serves a multicultural population. It seeks to provide the highest level of safe patient and family focused care. St. Mary's is an integral part of the Réseau universitaire intégré de santé (RUIS) McGill. For more information, visit http://smhc.qc.ca/
- 30 -
For more information, contact:
Alex Fretier, Information Officer, or
Seeta Ramdass, Director of Communications & Public Relations, St. Mary's Hospital Center
514 734-2665