News
SMHC participates in A Taste of the Caribbean Festival
St Mary's Hospital Center (SMHC) and Batshaw Youth and Family Centres, of our "Centre intégré universitaire de santé et de services sociaux de l'Ouest-de-l'Île-de-Montréal" (CIUSSS ODIM), took part in the 16th edition of A Taste of the Caribbean (TOTC) Festival, the largest Caribbean Food and Culture Festival in Canada.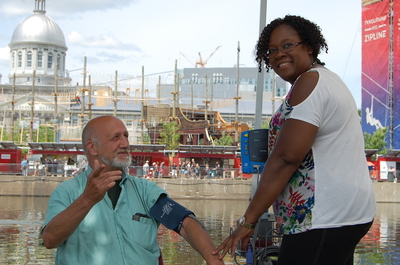 The three day event, held at the Old Port, was attended by thousands of Montrealers and tourists who came out to celebrate Montreal's Caribbean community through music, dance, food and a variety of cultural activities for all ages.
SMHC hosted an information booth on community health, distributing information on the importance of hand washing and the precautions to take in extremely hot weather conditions.
Participants were also able to ask questions to Paulette Morris, Clinical Nurse at SMHC and have their blood pressure checked. Bahshaw sensitized the community to the challenges and needs of children and youths and the importance of foster families.