Research news
Student projects at SMRC – Work in Progress
Three Masters students from McGill's Department of Family Medicine, conducting their research projects at St. Mary's Research Centre (SMRC), presented their projects to the St. Mary's community.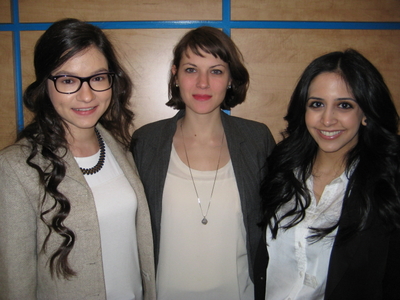 Noura Redding presented her project: "Sharing the Prenatal Care Experience: Factors that Influence Women to Seek Group Prenatal care";
Emily Parkinson presented: "Professional Over-the-Phone Interpretation to Improve the Quality of Primary Care for Migrants: a Feasibility Study";
Safina Adatia presented: "Introducing a Quiet Time Intervention on a Maternity Ward: Engaging Patients and Staff to Assess Barriers and Benefits".
Their projects generated many questions and much discussion among those who attended their research presentations.