Research news
A St Mary's family doctor named a Canadian Rising Star In Global Health
Dr Anne Andermann, family physician at SMHC, has received a a Canadian Rising Star In Global Health award for her forward-thinking approach to tackle health inequities.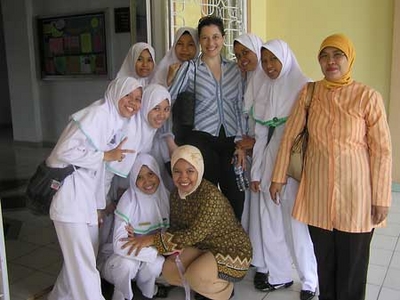 Montreal, June 29, 2011 - Dr. Anne Andermann, a public health physician and family doctor who works at Health Canada, the Cree Health Board and St Mary's Hospital Center, was selected as one of the Canadian Rising Stars in Global Health for her innovative approach to breaking the cycle of entrenched intergenerational health inequities using child labour as an entry point.
Dr. Andermann is one of the principal investigators of an international research collaboration called the Child Labour Evidence to Action Research Group (CLEAR). This group aims to develop a toolkit to enable community-based primary health care workers in low and middle income countries to provide much needed support to child labourers and their families, as well as to galvanize community mobilization and policy change at multiple levels.
"The entire collaboration met in June 2011 in the Department of Family Medicine at McGill University to discuss the next steps and share their enthusiasm for this novel initiative," explains Dr Andermann. "Attendees included the lead researchers from Bangladesh, Brazil, Niger and Pakistan, representatives from national ministries of health and labour, as well as observers from the World Health Organization and the International Labour Organization."
The team received $100,000 to launch the first stage of the project. If it proves successful, a second round of selection will allow them to receive up to $1 million to complete the second phase of research and prepare for wide-scale application of the research findings.
Grand Challenges Canada is a non-profit organization funded through the Government of Canada's foreign aid budget and functioning in a consortium with the International Development Research Centre (IDRC) and the Canadian Institutes of Health Research (CIHR). Its Canadian Rising Stars in Global Health program aims to tap into the creativity, knowledge and skills of emerging Canadian innovators to solve some of the most persistent health challenges in the developing world through scientific, technological, business, and social innovation.
St. Mary's Hospital Center (SMHC)
is a university affiliated, community hospital which serves a multicultural population. It seeks to provide the highest level of safe patient and family focused care. St. Mary's is an integral part of the Réseau universitaire intégré de santé (RUIS) McGill. For more information, visit
http://smhc.qc.ca/
- 30 -
For more information, contact:
Isabelle Kling, Information Officer, or
Seeta Ramdass, Director of Communications & Public Relations, St. Mary's Hospital Center
514 734-2665

Click here to read the press release from McGill University
Click here to read the article published in the McGill Reporter