Spiritual and Religious Care
Spiritual and Religious Care
Spiritual and Religious Care plays an important role at St. Mary's. The chaplains are a group of men and women from several different backgrounds and religions. They provide spiritual and religious support to the patient and his or her family during their hospital stay.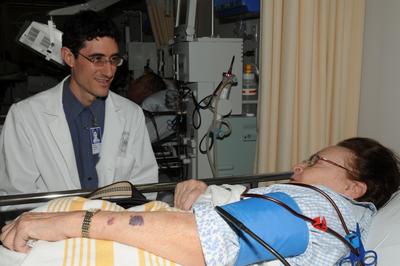 If you wish to speak to a member of the Spiritual Care team, please call 345-3511 ext. 3361. A chaplain is on call 24 hours a day, seven days a week for crisis intervention only.
St. Mary's Chapel is open 24 hours a day for staff, patients or families seeking a quiet place to reflect or pray. It is located on the 2nd floor of the Chapel building, east wing. A Multifaith corner has been added in the Chapel for those who wish to pray in an area where there are no statues or icons of any kind.
The department hosts an interfaith memorial service every two months for all the patients who have died within our hospital community. We also remember any staff and/or their relatives upon request.
People are welcome to call for information about bereavement support. If we cannot be of service to them, we can help them find what they are looking for.

Spiritual care is available to all
Through active listening and a ministry of presence, a spiritual care professional/chaplain can accompany you throughout your hospital stay. For some, this may include a specific religious request such as prayer or Religious Rites.
Click here to download the document Caring Across Cultures, Multicultural and Multifaith Considerations in Dying and Death